Pre Sale only for 0.1 SOL
Gifts is a randomly generated set of gifts stored on Solana.
As if it were a game, you can get the superpowers, gifts and skills that you want.
Images, and other functionality are intentionally omitted for others to interpret.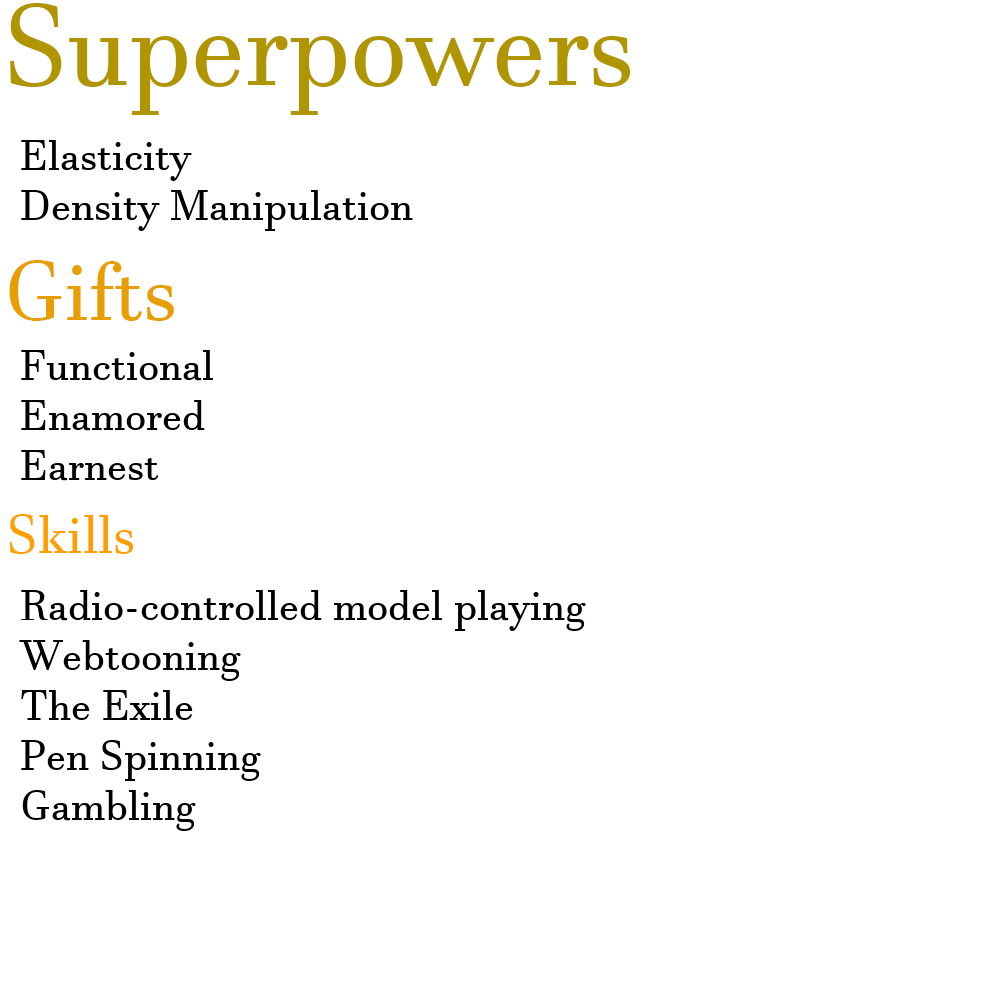 Each word has a score. Values ​​are from 0.1 to 9.9.
Sets with values ​​greater than 6 are generally considered rarer, therefore they may be more valuable to collectors.
Example:
In the next set, we can see that each gift has a score.
The rarity grade of the set is the average of all the gifts.
Superpowers
-Evolution = 8.9
-Extrasensory Perception = 2.6
Gifts
-Appealing = 1.01
-Entertained = 7.18
-Dapper = 8.91
Skills
-Botany = 7.16
-Hydroponics = 0.4
-Drama = 1.32
-Stripping = 3.46
-Famous Prose = 7.94
Total rarity = 4.88
| SUPERPOWERS | RARITY | | GIFTS | RARITY | | SKILLS | RARITY | |
| --- | --- | --- | --- | --- | --- | --- | --- | --- |
| Abjuration | 6 | | Abiding | 8.5 | | Accounting | 0.71 | |
| Absolute Change | 7 | | Abounding | 8.64 | | Acrobatics | 6.92 | |
| Absolute Death Manipulation | 8 | | Academic | 8.72 | | Acting | 6.01 | |
| Absolute Decay | 4 | | Acceptable | 5.54 | | Administration | 6.53 | |
| Absolute Law Manipulation | 6 | | Accepting | 5.97 | | Aesthetics | 4.29 | |
| Absolute Transcendence | 6.4 | | Accessible | 4.35 | | Agriculture | 9.45 | |
| Absolute Will | 8.6 | | Acclaimed | 3.82 | | Alchemical Tools | 5.13 | |
| Absolute Wish | 7.4 | | Accommodating | 4.76 | | Ambush | 8.34 | |
| Absorptive Merging | 2 | | Accountable | 7.82 | | Amphibians | 9.42 | |
| Abundance Inducement | 3.8 | | Accurate | 5.88 | | Analyze | 6.78 | |
| Accelerated Eyesight | 1.6 | | Actionable | 8.4 | | Anatomy | 6.67 | |
| Accelerated Vibration | 2.1 | | Active | 3.74 | | Animal Husbandry | 0.82 | |
| Air Manipulation | 2.9 | | Actual | 0.31 | | Anthropology | 6.22 | |
| Animal morphing | 3 | | Adaptive | 4.21 | | Applications of Arithmetic | 0.51 | |
| Aura Manipulation | 2.8 | | Adequate | 3.6 | | Archeology | 5.4 | |
| Autopotence | 5.9 | | Admirable | 2.36 | | Archery | 7.93 | |
| Camouflage | 4 | | Adored | 5.31 | | Architecture | 3.81 | |
| Chaos Manipulation | 4.6 | | Advantageous | 9.02 | | Arithmetic | 0.53 | |
| Cosmic Manipulation | 7.5 | | Advisable | 7.7 | | Armorer | 5.33 | |
| Creation | 9.8 | | Affectionate | 3.78 | | Art | 5.78 | |
| Danger Intuition | 1.2 | | Agreeable | 3.75 | | Art Appreciation | 6.32 | |
| Density Manipulation | 2 | | Alert | 5.37 | | Artisan | 2.79 | |
| Divination | 1.1 | | Alluring | 5.77 | | Astrology | 0.89 | |
| Earth Manipulation | 2.1 | | Amazed | 1.79 | | Astronomy | 8.53 | |
| Echolocation | 1 | | Amicable | 3.15 | | Athletics | 1.3 | |
| Elasticity | 0.6 | | Amusing | 6.56 | | Awareness | 9.2 | |
| Electricity Manipulation | 2.1 | | Appealing | 1.01 | | Baking | 1.65 | |
| Electromagnetism Manipulation | 2.1 | | Appetizing | 2.57 | | Bassan | 1.94 | |
| Elemental Manipulation | 3.9 | | Appreciative | 5.02 | | Befriend | 9.79 | |
| Emociones absolutas | 6.8 | | Approachable | 3.96 | | Beguile | 2.76 | |
| Energy Blasts | 4.8 | | Appropriate | 3.48 | | Biology | 2.24 | |
| Energy Emission | 6.1 | | Ardent | 2.86 | | Birds | 0.6 | |
| Enhanced Senses | 2.8 | | Arresting | 5.04 | | Blackmail | 3.92 | |
| Evolution | 8.9 | | Artful | 2.74 | | Bluff | 9.02 | |
| Extrasensory Perception | 2.6 | | Artistic | 3.57 | | Bond | 9.36 | |
| Fire Manipulation | 2.1 | | Aspiring | 9.67 | | Bond of Iron | 8.87 | |
| Gravity Manipulation | 2.2 | | Assertive | 0.34 | | Bond of Silver | 6.5 | |
| Ice Manipulation | 2.1 | | Assured | 0.45 | | Bond of Stars | 2.57 | |
| Immortality | 9.1 | | Assuring | 7.66 | | Bookbinding | 3.65 | |
| Immunity | 6 | | Astonishing | 9.45 | | Botany | 7.16 | |
| Infinite Supply | 4.3 | | Astounding | 9.2 | | Brew | 8.21 | |
| Intangibility | 3.8 | | Astronomical | 3.02 | | Brute Strength | 7 | |
| Invisibility | 2.5 | | Astute | 5.75 | | Bully | 9.05 | |
| Invulnerability | 2.3 | | Athletic | 5.58 | | Bureaucracy | 2.1 | |
| Ki control | 5.8 | | Attainable | 0.34 | | Calligraphy | 4.45 | |
| Levitation | 7.2 | | Attractive | 3.41 | | Carpentry | 3.6 | |
| Matter Transmutation | 7.6 | | Auspicious | 4.02 | | Cartography | 2.27 | |
| Mental Projection | 4.2 | | Authoritative | 6.98 | | Character | 4.46 | |
| Mimicry | 1 | | Avid | 0.95 | | Character Study | 2.06 | |
| Mindscape Transportation | 6 | | Awake | 8.32 | | Chemistry | 4.98 | |
| Omniarca | 8.9 | | Aware | 3.99 | | Chirurgery | 2.07 | |
| Omnilingualism | 7.8 | | Beaming | 5.63 | | Civil Law | 0.93 | |
| Omnipotence | 9.6 | | Bedazzling | 8.92 | | Climb | 8.07 | |
| Omnipresence | 9.5 | | Believable | 6.43 | | Clockwork | 1.52 | |
| Omniscience | 9.5 | | Beneficial | 7.3 | | Comets | 3.61 | |
| Petrification | 4 | | Benign | 5.3 | | Command | 9.45 | |
| Plasma Manipulation | 2.2 | | Bewildering | 6.75 | | Compete | 3.85 | |
| Portal Creation | 2.6 | | Bewitching | 9.88 | | Competition | 6.63 | |
| Precognition | 0.6 | | Bilingual | 5.62 | | Composure | 9.88 | |
| Quantum Manipulation | 2.8 | | Blameless | 7.03 | | Conceal | 5.93 | |
| Reactive Adaptation | 0.6 | | Blazing | 5.29 | | Concentration | 0.2 | |
| Reality Warping | 4 | | Blessed | 0.53 | | Confidence | 0.13 | |
| Reanimation | 0.5 | | Blissful | 8.18 | | Conversation | 8.11 | |
| Regeneration | 0.4 | | Blooming | 3.1 | | Cooking | 7.67 | |
| Replication | 2.6 | | Blushing | 9.71 | | Coordination | 8.58 | |
| Retrocognition | 0.2 | | Bodacious | 4.49 | | Cosmetics | 5.26 | |
| Self Transcendence | 4.7 | | Boisterous | 0.65 | | Courage | 1.56 | |
| Self-Detonation | 5 | | Boundless | 0.9 | | Court Hairstyles | 8.61 | |
| Speed | 0.9 | | Boyish | 0.81 | | Courtly Fashion | 5.74 | |
| Summoning | 6 | | Brainy | 9.42 | | Creativity | 3.63 | |
| Superstrength | 5.9 | | Brave | 4.07 | | Criminal Law | 0.62 | |
| Technology Manipulation | 0.8 | | Brawny | 6.65 | | Cryptology | 1.67 | |
| Telepathy | 0.7 | | Brazen | 0.89 | | Curiosity | 6.72 | |
| Teleportation | 8.6 | | Breathtaking | 5.44 | | Dance | 1.13 | |
| Time control | 9.8 | | Breezy | 5.19 | | Danger Sense | 6.27 | |
| Vampire Physiology | 7 | | Bright | 8.46 | | Dating | 4.53 | |
| Vibration Emission | 2.9 | | Buoyant | 3.12 | | Debate | 0.82 | |
| Water Manipulation | 2.2 | | Calming | 1.9 | | Deceit | 7.76 | |
| Weather Manipulation | 2.7 | | Candid | 5.44 | | Decipher Handwriting | 1.32 | |
| Yin & Yang Manipulation | 9 | | Capable | 9.05 | | Dedication | 5.91 | |
| | | | Captivating | 8.36 | | Demi-Tour | 7.69 | |
| | | | Carefree | 8.68 | | Dialectic | 2.55 | |
| | | | Careful | 0.69 | | Diction | 4.49 | |
| | | | Caring | 2.72 | | Diplomacy | 8.24 | |
| | | | Cautious | 5.76 | | Dispassion | 6.45 | |
| | | | Ceaseless | 1.16 | | Drafting | 6.35 | |
| | | | Celebrated | 4.93 | | Drive Carriage | 3.44 | |
| | | | Celestial | 2.06 | | Duel | 7.08 | |
| | | | Centered | 0.34 | | Duel Conduct | 4.95 | |
| | | | Cerebral | 8.49 | | Duelling Circles | 6.25 | |
| | | | Ceremonial | 1.34 | | Duelling Forms | 1.19 | |
| | | | Certified | 8.45 | | Economy | 4.21 | |
| | | | Changeable | 9.56 | | Elumian | 8.08 | |
| | | | Charismatic | 4.55 | | Empathy | 6.06 | |
| | | | Charitable | 9.9 | | Enchant | 6.5 | |
| | | | Charmed | 9.57 | | Endurance | 4.84 | |
| | | | Charming | 3.46 | | Engineering | 7.62 | |
| | | | Chatty | 3.7 | | Enspell | 7.66 | |
| | | | Cheeky | 3.35 | | Escape Artist | 8.19 | |
| | | | Cheerful | 0.69 | | Espionage | 6.1 | |
| | | | Cheery | 6.36 | | Ethics | 1.41 | |
| | | | Childlike | 3.58 | | Etiquette | 7.17 | |
| | | | Chivalrous | 8.35 | | Explore | 1.88 | |
| | | | Choice | 5.26 | | Familiar Kinship | 1.62 | |
| | | | Chuckling | 2.32 | | Famous Battles | 5.4 | |
| | | | Civilized | 8.09 | | Famous Dilemmas | 8.52 | |
| | | | Classical | 0.16 | | Famous Geometry Problems | 4.74 | |
| | | | Clean | 4.68 | | Famous Poetry | 8.42 | |
| | | | Clear | 4.79 | | Famous Prose | 7.94 | |
| | | | Clearheaded | 7.91 | | Famous Songs | 4.18 | |
| | | | Clever | 2.43 | | Famous Speeches | 9.58 | |
| | | | Close | 2.19 | | Field Medicine | 9.71 | |
| | | | Coachable | 8.93 | | Filing | 0.42 | |
| | | | Cognitive | 8.41 | | First Principles | 9 | |
| | | | Coherent | 7.75 | | Fish | 7.73 | |
| | | | Cohesive | 5.56 | | Flattery | 8.08 | |
| | | | Collaborative | 8.07 | | Flawless Timing | 5.42 | |
| | | | Collegial | 3.45 | | Flirting | 1.01 | |
| | | | Colloquial | 7.06 | | Flowers | 4.11 | |
| | | | Colorful | 9.01 | | Forge | 5.86 | |
| | | | Comfortable | 5.95 | | Forgery | 1.33 | |
| | | | Comforted | 9.82 | | Forms | 6.24 | |
| | | | Comforting | 7.96 | | Gambling | 0.66 | |
| | | | Commanding | 9.63 | | Gates | 1.03 | |
| | | | Commemorative | 9.56 | | Gates Methods | 6.28 | |
| | | | Commendable | 7.72 | | Gates Phemes | 7.33 | |
| | | | Committed | 0.21 | | Gates Spells | 8.85 | |
| | | | Communicative | 2.33 | | Geometric Laws | 3.83 | |
| | | | Compact | 1.13 | | Geometry | 2.91 | |
| | | | Compassionate | 2.18 | | Glamour | 3.16 | |
| | | | Compelling | 5.35 | | Glamour Methods | 3.58 | |
| | | | Competent | 3.35 | | Glamour Phemes | 9.12 | |
| | | | Complete | 0.46 | | Glamour Spells | 5.95 | |
| | | | Completed | 8.1 | | Gossip | 2.74 | |
| | | | Complex | 7.94 | | Grammar | 9.04 | |
| | | | Complimentary | 6.61 | | Greengrocery | 6.8 | |
| | | | Comprehensive | 8.22 | | Harpsichord | 0.45 | |
| | | | Conceivable | 0.71 | | Heraldry | 0.16 | |
| | | | Concerted | 9.12 | | Hide | 1.06 | |
| | | | Concise | 4.82 | | History | 8.31 | |
| | | | Confidential | 5.89 | | Honor of Mallen Field | 7.73 | |
| | | | Confirmable | 1.92 | | Hunting | 2.25 | |
| | | | Congruent | 8.22 | | Identities of Arithmetic | 7.22 | |
| | | | Connected | 5.75 | | Illustration | 7.5 | |
| | | | Conscientious | 7.55 | | Incantation | 6.52 | |
| | | | Conscious | 7.84 | | Incantation Methods | 6.3 | |
| | | | Consensual | 0.94 | | Incantation Phemes | 8.32 | |
| | | | Consenting | 5.12 | | Incantation Spells | 6.99 | |
| | | | Conservative | 6.31 | | Infiltration | 9.53 | |
| | | | Consistent | 6.02 | | Ink Compounds | 4.96 | |
| | | | Consoling | 0.47 | | Innuendo | 5.83 | |
| | | | Conspiratorial | 2.94 | | Insects | 6.52 | |
| | | | Constant | 4.51 | | Instinct | 4.7 | |
| | | | Constructive | 7.22 | | Insult | 4.64 | |
| | | | Consummate | 3.98 | | Interrogation | 2.18 | |
| | | | Contemplative | 1.46 | | Intimidation | 6.68 | |
| | | | Contemporary | 8.94 | | Intrigue | 1.34 | |
| | | | Content | 9.1 | | Jeweler | 6.23 | |
| | | | Contented | 5.51 | | Journalism | 7.32 | |
| | | | Contributive | 5.85 | | Knots | 4.11 | |
| | | | Convenient | 1.4 | | Language | 6.54 | |
| | | | Conventional | 1.83 | | Law | 4.12 | |
| | | | Conversational | 6.63 | | Leadership | 3.45 | |
| | | | Convincing | 5.25 | | Legacy of Many Towers | 8.94 | |
| | | | Coolest | 1.88 | | Library Knowledge | 0.89 | |
| | | | Cooperative | 4.26 | | Lie | 6.41 | |
| | | | Coordinated | 6.07 | | Lip Reading | 0.47 | |
| | | | Copious | 8.65 | | Listen | 7.51 | |
| | | | Coquettish | 3.38 | | Lockpick | 4.03 | |
| | | | Correctable | 8.11 | | Logic | 1.47 | |
| | | | Corresponding | 2.14 | | Logistic | 1.02 | |
| | | | Cosmic | 4.69 | | Lute | 3.55 | |
| | | | Courageous | 6.75 | | Lyre | 1.53 | |
| | | | Courteous | 3.27 | | Magical Appraisal | 7.05 | |
| | | | Coveted | 7.05 | | Malice | 7.06 | |
| | | | Creamy | 4.09 | | Manipulation | 1.02 | |
| | | | Creative | 6.08 | | Mammals | 4.03 | |
| | | | Credible | 1.98 | | Manner of the Champion | 9.45 | |
| | | | Crisp | 4.01 | | Mastery | 0.8 | |
| | | | Crucial | 6.93 | | Mastery Methods | 3.44 | |
| | | | Crunchy | 8.57 | | Mastery Phemes | 5.46 | |
| | | | Cuddly | 2.99 | | Mastery Spells | 2.42 | |
| | | | Cultured | 5.47 | | Materials Knowledge | 8.08 | |
| | | | Cunning | 6.84 | | Memorization | 0.78 | |
| | | | Curable | 0.18 | | Mental Bridging | 9.79 | |
| | | | Curative | 2.29 | | Merilien | 0.65 | |
| | | | Curious | 2.25 | | Metallurgy | 6.14 | |
| | | | Current | 4.04 | | Mimicry | 3.41 | |
| | | | Customary | 2.85 | | Minetan Swagger | 9.17 | |
| | | | Cute | 3.98 | | Moons | 6.57 | |
| | | | Dainty | 3.47 | | Move Silently | 7.07 | |
| | | | Dapper | 8.91 | | Music | 1.38 | |
| | | | Daring | 0.1 | | Music Theory | 3.93 | |
| | | | Dashing | 2.95 | | Natural Philosophy | 2.66 | |
| | | | Daughterly | 2.08 | | Navigation | 2.79 | |
| | | | Dazzling | 5.94 | | Negation | 9.4 | |
| | | | Dear | 5.39 | | Negation Methods | 2.27 | |
| | | | Debonair | 4.14 | | Negation Phemes | 8.11 | |
| | | | Decadent | 6.9 | | Negation Spells | 5.96 | |
| | | | Decisive | 2.73 | | Negotiate | 8.58 | |
| | | | Decorative | 8.82 | | Notation | 9.8 | |
| | | | Decorous | 6.03 | | Numerology | 2.43 | |
| | | | Dedicated | 7.63 | | Observation | 2.26 | |
| | | | Deep | 5.77 | | Oncestrian | 2 | |
| | | | Defendable | 6.65 | | Oratory | 5.38 | |
| | | | Defensible | 9.25 | | Orthography | 7.03 | |
| | | | Definable | 7.19 | | Painting | 6.13 | |
| | | | Definitive | 3.78 | | Palettes | 2.53 | |
| | | | Delectable | 0.96 | | Passion | 0.82 | |
| | | | Deliberate | 6.98 | | Patience | 1.23 | |
| | | | Deliberative | 9.2 | | Patrol | 6.33 | |
| | | | Delicious | 4.02 | | Perception | 1.47 | |
| | | | Delighted | 7.51 | | Perfumes | 5.35 | |
| | | | Delightful | 2.61 | | Persuasion | 8.09 | |
| | | | Demonstrative | 1.26 | | Phemes | 3 | |
| | | | Demure | 9.71 | | Piety | 7.41 | |
| | | | Dependable | 3.65 | | Planets | 4.37 | |
| | | | Designer | 4.15 | | Planning | 6.49 | |
| | | | Desirous | 1.01 | | Playfulness | 3.6 | |
| | | | Detailed | 1.29 | | Plot | 1.62 | |
| | | | Devoted | 0.78 | | Poisons | 2.68 | |
| | | | Devout | 0.47 | | Politics | 5.85 | |
| | | | Didactic | 0.32 | | Practical Jokes | 7.56 | |
| | | | Dignified | 1.51 | | Prayer | 2.2 | |
| | | | Diplomatic | 4.66 | | Pride of a Rebel Queen | 7.71 | |
| | | | Direct | 0.76 | | Properties of Arithmetic | 2.9 | |
| | | | Disarming | 5.75 | | Pure Luck | 9.18 | |
| | | | Disciplined | 6.18 | | Puzzles | 6.85 | |
| | | | Discriminating | 1.79 | | Raid | 6.63 | |
| | | | Distinct | 2.77 | | Rallying | 5.52 | |
| | | | Distinguished | 8.24 | | Reason | 1.07 | |
| | | | Distracting | 8.41 | | Recipes | 7.07 | |
| | | | Diverse | 4.96 | | Religion | 5.1 | |
| | | | Diversified | 2.15 | | Research | 7.02 | |
| | | | Dizzying | 3.04 | | Revision | 6.28 | |
| | | | Doable | 3.32 | | Revision Methods | 9.3 | |
| | | | Dogged | 9.86 | | Revision Phemes | 9.06 | |
| | | | Dogmatic | 1.69 | | Revision Spells | 8.23 | |
| | | | Domestic | 0.9 | | Rhetoric | 4.98 | |
| | | | Dominant | 0.88 | | Riding | 9.12 | |
| | | | Doting | 0.75 | | Rimbal | 8.34 | |
| | | | Dreamy | 5.63 | | Rimbal Plays | 2.61 | |
| | | | Dressy | 5.52 | | Rimbal Positions | 7.61 | |
| | | | Driven | 6.09 | | Rimbal Tactics | 7.37 | |
| | | | Dutiful | 6.27 | | Romance | 2.77 | |
| | | | Dynamic | 9.15 | | Roots | 2.6 | |
| | | | Early | 2.59 | | Running | 4.06 | |
| | | | Earnest | 3.95 | | Sabotage | 9.03 | |
| | | | Earthy | 2.24 | | Satyric Revelry | 4.46 | |
| | | | Eccentric | 8.1 | | Scent Detection | 7.07 | |
| | | | Economical | 9.07 | | School Survival | 8.06 | |
| | | | Ecstatic | 0.73 | | Schoolyard Education | 4.69 | |
| | | | Edgy | 8.52 | | Scouting | 1.39 | |
| | | | Educated | 5.39 | | Seeds | 4.12 | |
| | | | Educational | 6.36 | | Seeking Friends in Hidden Places | 1.51 | |
| | | | Effervescent | 6.44 | | Semantics | 6.93 | |
| | | | Effortless | 6.74 | | Serenity | 5.45 | |
| | | | Effusive | 6.33 | | Sewing | 0.63 | |
| | | | Egalitarian | 3.4 | | Sleight-of-Hand | 4.62 | |
| | | | Elaborate | 7.95 | | Sleuthing | 3.13 | |
| | | | Electric | 1.73 | | Social Skills | 6.91 | |
| | | | Electrifying | 4.94 | | Society | 6.07 | |
| | | | Elegant | 2.96 | | Speaking Quietly of Riddles | 1.8 | |
| | | | Elevated | 9.86 | | Spy | 6.55 | |
| | | | Eligible | 4.61 | | Stars | 7.07 | |
| | | | Elite | 8 | | Storytelling | 0.12 | |
| | | | Eloquent | 3.49 | | Strategy | 8.59 | |
| | | | Emblematic | 9.12 | | Striving Against the Foe | 5.59 | |
| | | | Emboldened | 1.96 | | Study Habits | 6.94 | |
| | | | Empirical | 8.93 | | Swimming | 4.49 | |
| | | | Enamored | 9.11 | | Synchronicity | 2.26 | |
| | | | Enchanted | 6.18 | | Syntax | 7.5 | |
| | | | Enchanting | 7.95 | | Tactics | 3.81 | |
| | | | Encouraged | 2.09 | | Tease | 4.82 | |
| | | | Encouraging | 1.51 | | Temperance | 1.45 | |
| | | | Endearing | 8.13 | | Test Taking | 5.57 | |
| | | | Endurable | 2.12 | | The Calamities | 4.25 | |
| | | | Enduring | 4.94 | | The Captivity of Man | 9.83 | |
| | | | Energizing | 8.79 | | The Early Empire | 8.73 | |
| | | | Enforceable | 9.56 | | The Exile | 9.54 | |
| | | | Engrossing | 3.22 | | The History of Magic | 0.54 | |
| | | | Enhanced | 3.56 | | The Middle Empire | 3.13 | |
| | | | Enigmatic | 2.94 | | The Second Captivity | 5.81 | |
| | | | Enjoyable | 6.86 | | Theatre | 7.59 | |
| | | | Enlightened | 1.51 | | Theology | 5.77 | |
| | | | Enough | 7.53 | | Theory of Arithmetic | 9.49 | |
| | | | Enterprising | 3.05 | | Theory of Astrology | 3.59 | |
| | | | Entertained | 7.18 | | Theory of Enchantment | 7.7 | |
| | | | Entertaining | 0.15 | | Theory of Gates | 8.78 | |
| | | | Enthralled | 2.03 | | Theory of Glamour | 2.15 | |
| | | | Enthused | 6.36 | | Theory of Incantation | 8.04 | |
| | | | Enthusiastic | 4.66 | | Theory of Mastery | 2.46 | |
| | | | Enticing | 0.99 | | Theory of Negation | 3.98 | |
| | | | Entire | 7.27 | | Theory of Revision | 1.08 | |
| | | | Entranced | 3.9 | | Transport | 1.22 | |
| | | | Entrepreneurial | 6.04 | | Traps | 7.85 | |
| | | | Enumerable | 3.11 | | Trigonometry | 4.41 | |
| | | | Enviable | 6.93 | | Veneration of the Saints | 7.56 | |
| | | | Equitable | 4.81 | | Vilocian | 9.56 | |
| | | | Erect | 2.2 | | Violin | 2.32 | |
| | | | Essential | 0.9 | | Voice | 9.17 | |
| | | | Established | 9.56 | | War | 5.41 | |
| | | | Eternal | 5.15 | | Weaponsmith | 7.47 | |
| | | | Ethereal | 2.67 | | Wilderness Survival | 1.72 | |
| | | | Ethical | 1.05 | | Willpower | 6.54 | |
| | | | Euphoric | 8.23 | | Wit | 5.94 | |
| | | | Even | 9.01 | | Worldliness | 9.22 | |
| | | | Eventful | 5.01 | | Worms | 3.38 | |
| | | | Everlasting | 7.49 | | Wrestling | 8.33 | |
| | | | Evocative | 9.27 | | Zoology | 3.49 | |
| | | | Exact | 0.26 | | 3D printing | 0.57 | |
| | | | Exalted | 2.38 | | Acroyoga | 0.82 | |
| | | | Exceptional | 5.63 | | Aerial silk | 9.05 | |
| | | | Excitable | 3.8 | | Airbrushing | 9.22 | |
| | | | Excited | 5.15 | | Amateur radio | 3.29 | |
| | | | Exciting | 3.82 | | Animation | 9.4 | |
| | | | Exclusive | 5.58 | | Anime | 8.18 | |
| | | | Executable | 3.48 | | Aquascaping | 0.3 | |
| | | | Exhaustive | 7.75 | | Barbershop Music | 1.38 | |
| | | | Exhilarated | 3.37 | | Baton twirling | 8.41 | |
| | | | Exhilarating | 1.86 | | Beatboxing | 8.29 | |
| | | | Exotic | 2.68 | | Beer tasting | 7.6 | |
| | | | Expansive | 1.74 | | Bell ringing | 4.19 | |
| | | | Expectant | 3.51 | | Binge-watching | 5.21 | |
| | | | Expected | 4.66 | | Blogging | 2.23 | |
| | | | Expedient | 9.75 | | Board/tabletop games | 9.31 | |
| | | | Expeditious | 0.18 | | Book discussion clubs | 8.48 | |
| | | | Expensive | 1.78 | | Book restoration | 4.14 | |
| | | | Expert | 8.2 | | Bowling | 2.25 | |
| | | | Express | 7.61 | | Brazilian jiu-jitsu | 9.71 | |
| | | | Expressionistic | 3.94 | | Breadmaking | 3.48 | |
| | | | Expressive | 3.66 | | Bullet journaling | 4.33 | |
| | | | Exquisite | 4.61 | | Candle making | 1.98 | |
| | | | Extensive | 0.66 | | Candy making | 5.07 | |
| | | | Extraordinary | 2.7 | | Car fixing & building | 1.4 | |
| | | | Extravagant | 1.04 | | Card games | 1.7 | |
| | | | Exuberant | 0.53 | | Cardistry | 8.76 | |
| | | | Fabled | 8.3 | | Ceramics | 7.44 | |
| | | | Factual | 7.95 | | Chatting | 2.74 | |
| | | | Famous | 1 | | Cheesemaking | 4.48 | |
| | | | Fascinated | 8.9 | | Chess | 4.09 | |
| | | | Fascinating | 7.76 | | Cleaning | 8.21 | |
| | | | Fashionable | 8.97 | | Clothesmaking | 6.86 | |
| | | | Fastidious | 4.98 | | Coffee roasting | 5.68 | |
| | | | Fateful | 1.65 | | Collecting | 1.15 | |
| | | | Fatherly | 3.36 | | Coloring | 6.83 | |
| | | | Fathomable | 7.94 | | Communication | 8.73 | |
| | | | Favorable | 2.55 | | Community activism | 3.69 | |
| | | | Fearless | 0.35 | | Computer programming | 6.05 | |
| | | | Fertile | 7.43 | | Confectionery | 6.51 | |
| | | | Fervent | 6.85 | | Conlanging | 5.15 | |
| | | | Fetching | 1.82 | | Construction | 4.64 | |
| | | | Fierce | 1.02 | | Cosplaying | 3.78 | |
| | | | Fiery | 6.29 | | Couch surfing | 8.7 | |
| | | | Fine | 7.71 | | Couponing | 2.38 | |
| | | | Firm | 0.8 | | Craft | 7.27 | |
| | | | First | 0.83 | | Creative writing | 0.98 | |
| | | | Fit | 2.05 | | Crocheting | 8.1 | |
| | | | Flamboyant | 5.51 | | Cross-stitch | 7.32 | |
| | | | Flashy | 2.89 | | Crossword puzzles | 7.2 | |
| | | | Flattered | 9.59 | | Cryptography | 4.04 | |
| | | | Flattering | 6.69 | | Cue sports | 1.15 | |
| | | | Flavorful | 0.47 | | Decorating | 6.48 | |
| | | | Flawless | 6.96 | | Digital arts | 0.75 | |
| | | | Flexible | 3.35 | | Dining | 3.54 | |
| | | | Flirtatious | 0.65 | | Diorama | 9.44 | |
| | | | Flowery | 4.11 | | Distro Hopping | 8.46 | |
| | | | Fluent | 3.45 | | Diving | 2.48 | |
| | | | Fluffy | 6.35 | | Djembe | 0.22 | |
| | | | Focused | 0.34 | | DJing | 6.42 | |
| | | | Fond | 8.14 | | Do it yourself | 7.91 | |
| | | | Foreseeable | 8.56 | | Drama | 1.32 | |
| | | | Forgivable | 6.93 | | Drawing | 2.07 | |
| | | | Forgiving | 0.52 | | Drink mixing | 7.72 | |
| | | | Formal | 2.84 | | Electronic games | 4.7 | |
| | | | Formative | 7.54 | | Electronics | 3.4 | |
| | | | Formidable | 7.36 | | Embroidery | 1.75 | |
| | | | Forthright | 3.86 | | Engraving | 1.6 | |
| | | | Fortuitous | 8.46 | | Entertaining | 4.27 | |
| | | | Fortunate | 7.54 | | Experimenting | 1.65 | |
| | | | Forward | 3.13 | | Fantasy sports | 1.63 | |
| | | | Foxy | 3.86 | | Fashion | 3.45 | |
| | | | Fragrant | 3.59 | | Fashion design | 8.32 | |
| | | | Frank | 9.11 | | Feng shui decorating | 4.83 | |
| | | | Fraternal | 8.53 | | Filmmaking | 6.41 | |
| | | | Free | 4.32 | | Fingerpainting | 1.37 | |
| | | | Fresh | 3.71 | | Fishfarming | 3.19 | |
| | | | Friendly | 7.64 | | Fishkeeping | 9.87 | |
| | | | Frisky | 1.66 | | Flower arranging | 1.58 | |
| | | | Fulfilled | 9.32 | | Fly tying | 8.1 | |
| | | | Fulfilling | 9.61 | | Foreign language learning | 1.72 | |
| | | | Full | 1.16 | | Furniture building | 6.91 | |
| | | | Fun | 9.64 | | Gaming | 3.99 | |
| | | | Functional | 0.4 | | Genealogy | 7.45 | |
| | | | Fundamental | 9.32 | | Gingerbread house making | 2.68 | |
| | | | Futuristic | 4.33 | | Giving advice | 5.64 | |
| | | | Gainful | 1.51 | | Glassblowing | 2.31 | |
| | | | Gallant | 2.13 | | Gardening | 2.06 | |
| | | | Game | 5.79 | | Gongfu tea | 0.29 | |
| | | | Generous | 7.43 | | Graphic design | 0.44 | |
| | | | Genial | 0.23 | | Gunsmithing | 6.5 | |
| | | | Genuine | 6.48 | | Hacking | 1.5 | |
| | | | Giddy | 8.48 | | Hardware | 4.91 | |
| | | | Gifted | 4.75 | | Herp keeping | 7.23 | |
| | | | Giggling | 1.58 | | Home improvement | 6.99 | |
| | | | Giving | 6.32 | | Homebrewing | 4.35 | |
| | | | Glaring | 7.89 | | Houseplant care | 5.7 | |
| | | | Glittering | 1.01 | | Hula hooping | 5.61 | |
| | | | Glorious | 6.34 | | Humor | 5.14 | |
| | | | Glossy | 5.32 | | Hydroponics | 0.4 | |
| | | | Glowing | 6.98 | | Ice skating | 8.39 | |
| | | | Golden | 5.2 | | Inventing | 7.29 | |
| | | | Graceful | 8.31 | | Jewelry making | 0.29 | |
| | | | Gracious | 7.56 | | Jigsaw puzzles | 1.73 | |
| | | | Grandiose | 3.55 | | Journaling | 1.96 | |
| | | | Gratified | 1.74 | | Juggling | 3.78 | |
| | | | Gratifying | 1.53 | | Karaoke | 4.71 | |
| | | | Greatest | 6.53 | | Karate | 8.69 | |
| | | | Grinning | 8.58 | | Kendama | 1.03 | |
| | | | Gripping | 8.66 | | Knife making | 3.02 | |
| | | | Groomed | 9.85 | | Knitting | 5.11 | |
| | | | Groovy | 2.78 | | Knot tying | 0.82 | |
| | | | Guaranteed | 9.19 | | Kombucha brewing | 1.26 | |
| | | | Guiltless | 5.87 | | Kung fu | 3.5 | |
| | | | Gutsy | 6.2 | | Lace making | 3.52 | |
| | | | Hallowed | 9.45 | | Lapidary | 8.21 | |
| | | | Handsome | 9.77 | | Leather crafting | 8.17 | |
| | | | Hardworking | 9.06 | | Lego building | 9.89 | |
| | | | Hardy | 8.83 | | Livestreaming | 1.21 | |
| | | | Harmless | 2.03 | | Listening to music | 4.55 | |
| | | | Harmonic | 5.34 | | Listening to podcasts | 4.15 | |
| | | | Harmonious | 7.2 | | Lock picking | 2.62 | |
| | | | Heady | 0.95 | | Machining | 0.13 | |
| | | | Hearty | 5.42 | | Macrame | 8.01 | |
| | | | Heavenly | 9.8 | | Magic | 5.5 | |
| | | | Helpful | 4.34 | | Makeup | 7.83 | |
| | | | Heroic | 6.43 | | Manga | 3.02 | |
| | | | Historical | 1.18 | | Massaging | 9.9 | |
| | | | Holistic | 9.53 | | Mazes (indoor/outdoor) | 4.18 | |
| | | | Homey | 8.38 | | Mechanics | 8.32 | |
| | | | Honorable | 6.96 | | Meditation | 2.4 | |
| | | | Hopeful | 7.9 | | Memory training | 2.23 | |
| | | | Hot | 9.25 | | Metalworking | 4.85 | |
| | | | Huggable | 1.25 | | Miniature art | 2.47 | |
| | | | Human | 8.56 | | Minimalism | 5.64 | |
| | | | Humble | 1.88 | | Model building | 2.47 | |
| | | | Hygienic | 4.45 | | Modeling | 9.56 | |
| | | | Idealistic | 9.6 | | Model engineering | 4.58 | |
| | | | Illuminating | 8.09 | | Nail art | 0.5 | |
| | | | Illustrious | 1.1 | | Needlepoint | 1.94 | |
| | | | Immaculate | 0.19 | | Origami | 3.85 | |
| | | | Immense | 2.5 | | Palmistry | 0.56 | |
| | | | Immortal | 3.42 | | Pen Spinning | 7.77 | |
| | | | Immovable | 3.66 | | Performance | 7.39 | |
| | | | Impartial | 8.14 | | Pet | 4.17 | |
| | | | Impassioned | 8.66 | | Pet adoption & fostering | 1.25 | |
| | | | Impenetrable | 1.98 | | Pet sitting | 4.09 | |
| | | | Impervious | 5.7 | | Philately | 2.42 | |
| | | | Important | 2.5 | | Photography | 2.18 | |
| | | | Impressive | 3.19 | | Pilates | 0.67 | |
| | | | Improved | 3.7 | | Plastic art | 9.2 | |
| | | | Improving | 4.29 | | Playing musical instruments | 8.18 | |
| | | | Inalienable | 0.23 | | Poetry | 3.55 | |
| | | | Incandescent | 0.32 | | Poi | 5.68 | |
| | | | Inclusive | 6.3 | | Pole dancing | 9.73 | |
| | | | Incomparable | 4.91 | | Postcrossing | 3.23 | |
| | | | Incontrovertible | 0.82 | | Pottery | 2.41 | |
| | | | Industrious | 4.46 | | Power Nap | 6.05 | |
| | | | Influential | 6.79 | | Pressed flower craft | 1.42 | |
| | | | Informative | 2.07 | | Proofreading and editing | 1 | |
| | | | Informed | 3.73 | | Proverbs | 5.32 | |
| | | | Ingenuous | 3.14 | | Public speaking | 5.94 | |
| | | | Inhabitable | 2.23 | | Puppetry | 2.51 | |
| | | | Innovative | 6.56 | | Pyrography | 7.08 | |
| | | | Inquisitive | 4.68 | | Quilling | 8.03 | |
| | | | Insightful | 2.33 | | Quilting | 1.13 | |
| | | | Invaluable | 3.54 | | Quizzes | 1.4 | |
| | | | Inviting | 8.78 | | Radio-controlled model playing | 9.14 | |
| | | | Iridescent | 4.31 | | Rail transport modeling | 6.87 | |
| | | | Joyful | 4.4 | | Rapping | 2.05 | |
| | | | Kindhearted | 3.55 | | Reading | 3.74 | |
| | | | Knowing | 9.76 | | Recipe creation | 0.13 | |
| | | | Laudable | 2.38 | | Refinishing | 2.19 | |
| | | | Learned | 9.18 | | Reiki | 6.66 | |
| | | | Likeable | 3.64 | | Reviewing Gadgets | 7.26 | |
| | | | Loveable | 5.61 | | Robot combat | 5.67 | |
| | | | Lovely | 6.42 | | Rubik's Cube | 7.57 | |
| | | | Loving | 0.57 | | Scrapbooking | 4 | |
| | | | Marketable | 2.68 | | Scuba Diving | 3.77 | |
| | | | Maternal | 0.15 | | Sculpting | 0.91 | |
| | | | Meaningful | 0.37 | | Shoemaking | 5.15 | |
| | | | Meditative | 9.3 | | Singing | 2.21 | |
| | | | Merry | 5.43 | | Sketching | 2.01 | |
| | | | Miraculous | 4.68 | | Skipping rope | 1.37 | |
| | | | Motivational | 3.17 | | Slot car | 1.3 | |
| | | | Moving | 2.11 | | Soapmaking | 9.67 | |
| | | | Naughty | 3.77 | | Social media | 0.47 | |
| | | | Neighborly | 9.44 | | Spreadsheets | 5.3 | |
| | | | Notable | 1.89 | | Stamp collecting | 5.5 | |
| | | | Nutritious | 7.48 | | Stand-up comedy | 5.23 | |
| | | | Observant | 5.47 | | Stripping | 3.46 | |
| | | | Optimistic | 2.31 | | Sudoku | 4.93 | |
| | | | Parental | 5.49 | | Talking | 3.21 | |
| | | | Paternal | 0.62 | | Tapestry | 3.43 | |
| | | | Patient | 6.56 | | Tarot | 0.16 | |
| | | | Peerless | 7.38 | | Tatebanko | 5.64 | |
| | | | Perceptive | 2.47 | | Tattooing | 2.33 | |
| | | | Personable | 6.79 | | Taxidermy | 6.85 | |
| | | | Phenomenal | 4.58 | | Telling jokes | 2.04 | |
| | | | Playful | 6.1 | | Thrifting | 6.58 | |
| | | | Precocious | 1.94 | | Upcycling | 0.93 | |
| | | | Premium | 2.95 | | Video editing | 2.41 | |
| | | | Pretty | 5.02 | | Video game developing | 2.02 | |
| | | | Productive | 6.38 | | Video gaming | 7.63 | |
| | | | Proud | 7.44 | | Video making | 5.97 | |
| | | | Pure | 5.46 | | VR Gaming | 5.59 | |
| | | | Quirky | 0.68 | | Wargaming | 7.98 | |
| | | | Resilient | 6.48 | | Watch making | 4.76 | |
| | | | Reverent | 9.02 | | Watching documentaries | 8.72 | |
| | | | Romantic | 7.79 | | Watching movies | 1.68 | |
| | | | Scrupulous | 3.81 | | Watching television | 7.02 | |
| | | | Seemly | 6.43 | | Wax sealing | 8.62 | |
| | | | Sociable | 7.58 | | Waxing | 3.36 | |
| | | | Stimulating | 8.38 | | Weaving | 7.31 | |
| | | | Straightforward | 1.66 | | Webtooning | 3.04 | |
| | | | Suave | 2.87 | | Weight training | 3.02 | |
| | | | Successful | 1.24 | | Welding | 6.57 | |
| | | | Talented | 7.74 | | Whisky | 3.15 | |
| | | | Tasteful | 7.09 | | Whittling | 0.47 | |
| | | | Thrifty | 9.4 | | Wikipedia editing | 2.73 | |
| | | | Upright | 8.04 | | Wine tasting | 9.19 | |
| | | | Valiant | 4.55 | | Winemaking | 2.07 | |
| | | | Winning | 3.87 | | Witchcraft | 7.28 | |
| | | | Zestful | 8.05 | | Wood carving | 1.61 | |
| | | | | | | Woodworking | 1.21 | |
| | | | | | | Word searches | 5.12 | |
| | | | | | | Worldbuilding | 5.39 | |
| | | | | | | Writing | 2.61 | |
| | | | | | | Writing music | 7.47 | |
| | | | | | | Yo-yoing | 7.53 | |
| | | | | | | Yoga | 5.62 | |
| | | | | | | Zumba | 9.87 | |
| | | | | | | Air sports | 8.15 | |
| | | | | | | Airsoft | 5.56 | |
| | | | | | | Amateur geology | 2.69 | |
| | | | | | | Amusement park visiting | 3.65 | |
| | | | | | | Auto detailing | 6.7 | |
| | | | | | | Automobilism | 5.68 | |
| | | | | | | Backpacking | 9.81 | |
| | | | | | | Badminton | 6.83 | |
| | | | | | | BASE jumping | 5.79 | |
| | | | | | | Baseball | 4.31 | |
| | | | | | | Basketball | 7.45 | |
| | | | | | | Beachcombing | 6 | |
| | | | | | | Beekeeping | 0.61 | |
| | | | | | | Birdwatching | 3.71 | |
| | | | | | | Blacksmithing | 0.88 | |
| | | | | | | BMX | 3.66 | |
| | | | | | | Board sports | 3.24 | |
| | | | | | | Bodybuilding | 4.75 | |
| | | | | | | Bonsai | 2.72 | |
| | | | | | | Bus riding | 2.19 | |
| | | | | | | Camping | 0.47 | |
| | | | | | | Canoeing | 2.88 | |
| | | | | | | Canyoning | 6.87 | |
| | | | | | | Car riding | 8.34 | |
| | | | | | | Car tuning | 0.19 | |
| | | | | | | Caving | 3.89 | |
| | | | | | | City trip | 8.87 | |
| | | | | | | Climbing | 4.18 | |
| | | | | | | Composting | 7.38 | |
| | | | | | | Croquet | 0.34 | |
| | | | | | | Cycling | 1.86 | |
| | | | | | | Dandyism | 6.24 | |
| | | | | | | Dog training | 2.99 | |
| | | | | | | Dog walking | 0.2 | |
| | | | | | | Dowsing | 3.85 | |
| | | | | | | Driving | 5.64 | |
| | | | | | | Farming | 9.39 | |
| | | | | | | Fishing | 1.49 | |
| | | | | | | Flag football | 8.13 | |
| | | | | | | Flower growing | 2.91 | |
| | | | | | | Flying | 7.9 | |
| | | | | | | Flying disc | 4.9 | |
| | | | | | | Flying model planes | 9.6 | |
| | | | | | | Foraging | 1.78 | |
| | | | | | | Fossicking | 0.21 | |
| | | | | | | Freestyle football | 6.81 | |
| | | | | | | Fruit picking | 3.01 | |
| | | | | | | Geocaching | 8.2 | |
| | | | | | | Ghost hunting | 7.44 | |
| | | | | | | Gold prospecting | 7.89 | |
| | | | | | | Graffiti | 4.23 | |
| | | | | | | Groundhopping | 2.13 | |
| | | | | | | Guerrilla gardening | 7.45 | |
| | | | | | | Gymnastics | 8.24 | |
| | | | | | | Handball | 5.6 | |
| | | | | | | Herbalism | 4.02 | |
| | | | | | | Herping | 4.52 | |
| | | | | | | High-power rocketry | 5.06 | |
| | | | | | | Hiking | 3.79 | |
| | | | | | | Hobby horsing | 6.18 | |
| | | | | | | Hobby tunneling | 4.09 | |
| | | | | | | Hooping | 6.3 | |
| | | | | | | Horseback riding | 6.87 | |
| | | | | | | Inline skating | 9.01 | |
| | | | | | | Jogging | 1.69 | |
| | | | | | | Jumping rope | 9.45 | |
| | | | | | | Karting | 3.94 | |
| | | | | | | Kayaking | 9.13 | |
| | | | | | | Kite flying | 7.79 | |
| | | | | | | Kitesurfing | 1.41 | |
| | | | | | | Lacrosse | 9.69 | |
| | | | | | | LARPing | 8.7 | |
| | | | | | | Letterboxing | 8.16 | |
| | | | | | | Lomography | 8.73 | |
| | | | | | | Longboarding | 9.15 | |
| | | | | | | Martial arts | 5.26 | |
| | | | | | | Metal detecting | 5.21 | |
| | | | | | | Motorcycling | 0.42 | |
| | | | | | | Meteorology | 8.55 | |
| | | | | | | Motor sports | 9.61 | |
| | | | | | | Mountain biking | 9.82 | |
| | | | | | | Mountaineering | 7.04 | |
| | | | | | | Museum visiting | 7.48 | |
| | | | | | | Mushroom hunting/mycology | 2.6 | |
| | | | | | | Netball | 3.13 | |
| | | | | | | Noodling | 9.65 | |
| | | | | | | Nordic skating | 2.99 | |
| | | | | | | Orienteering | 4.21 | |
| | | | | | | Paintball | 0.64 | |
| | | | | | | Paragliding | 3.4 | |
| | | | | | | Parkour | 8.02 | |
| | | | | | | Pickleball | 3.25 | |
| | | | | | | Picnicking | 4.52 | |
| | | | | | | Podcast hosting | 4.84 | |
| | | | | | | Polo | 6.43 | |
| | | | | | | Powerlifting | 3.36 | |
| | | | | | | Public transport riding | 6.88 | |
| | | | | | | Qigong | 5.69 | |
| | | | | | | Rafting | 4.22 | |
| | | | | | | Railway journeys | 1.12 | |
| | | | | | | Rappelling | 4.51 | |
| | | | | | | Renaissance fair | 0.39 | |
| | | | | | | Renovating | 4.44 | |
| | | | | | | Road biking | 7.6 | |
| | | | | | | Rock climbing | 6.83 | |
| | | | | | | Rock painting | 1.9 | |
| | | | | | | Roller skating | 0.16 | |
| | | | | | | Rugby | 7.81 | |
| | | | | | | Safari | 8.61 | |
| | | | | | | Sailing | 0.49 | |
| | | | | | | Sand art | 3.92 | |
| | | | | | | Sculling or rowing | 4.43 | |
| | | | | | | Shooting | 0.57 | |
| | | | | | | Shopping | 3.71 | |
| | | | | | | Shuffleboard | 2.44 | |
| | | | | | | Skateboarding | 5.23 | |
| | | | | | | Skiing | 0.62 | |
| | | | | | | Skimboarding | 7.88 | |
| | | | | | | Skydiving | 0.73 | |
| | | | | | | Slacklining | 4.16 | |
| | | | | | | Sledding | 9.83 | |
| | | | | | | Snorkeling | 2.08 | |
| | | | | | | Snowboarding | 4.63 | |
| | | | | | | Snowmobiling | 6.63 | |
| | | | | | | Snowshoeing | 0.11 | |
| | | | | | | Soccer | 7.07 | |
| | | | | | | Stone skipping | 8.08 | |
| | | | | | | Storm chasing | 9.41 | |
| | | | | | | Sun bathing | 6.25 | |
| | | | | | | Surfing | 4.39 | |
| | | | | | | Survivalism | 1.31 | |
| | | | | | | Table tennis playing | 7.44 | |
| | | | | | | Taekwondo | 6.01 | |
| | | | | | | Tai chi | 3.7 | |
| | | | | | | Tennis | 9.85 | |
| | | | | | | Thru-hiking | 2.8 | |
| | | | | | | Topiary | 4.25 | |
| | | | | | | Tourism | 1.48 | |
| | | | | | | Trade fair visiting | 0.56 | |
| | | | | | | Travel | 9.19 | |
| | | | | | | Unicycling | 6.67 | |
| | | | | | | Urban exploration | 5.39 | |
| | | | | | | Vacation | 8.31 | |
| | | | | | | Vegetable farming | 4.11 | |
| | | | | | | Vehicle restoration | 3.46 | |
| | | | | | | Videography | 3.06 | |
| | | | | | | Volunteering | 5.38 | |
| | | | | | | Walking | 8.67 | |
| | | | | | | Water sports | 7.63 | |
| | | | | | | Zoo visiting | 4.9 | |
| | | | | | | Archaeology | 1.56 | |
| | | | | | | Business | 8.08 | |
| | | | | | | Electrochemistry | 9.66 | |
| | | | | | | English | 7.83 | |
| | | | | | | Entrepreneurship | 4.5 | |
| | | | | | | Geography | 1.42 | |
| | | | | | | Mathematics | 7.7 | |
| | | | | | | Medical science | 2.06 | |
| | | | | | | Microbiology | 1.6 | |
| | | | | | | Mycology | 8.65 | |
| | | | | | | Philosophy | 2.81 | |
| | | | | | | Physics | 3.25 | |
| | | | | | | Psychology | 8.82 | |
| | | | | | | Railway studies | 1.45 | |
| | | | | | | Science and technology studies | 7.84 | |
| | | | | | | Social studies | 3.81 | |
| | | | | | | Sociology | 1.38 | |
| | | | | | | Sports science | 5.06 | |
| | | | | | | Life Science | 6.76 | |
| | | | | | | Teaching | 6.48 | |
| | | | | | | Web design | 8.72 | |
| | | | | | | Action figure | 1.5 | |
| | | | | | | Antiquing | 3.27 | |
| | | | | | | Ant-keeping | 5.63 | |
| | | | | | | Art collecting | 0.13 | |
| | | | | | | Book collecting | 4.8 | |
| | | | | | | Button collecting | 5.51 | |
| | | | | | | Cartophily (card collecting) | 1.23 | |
| | | | | | | Coin collecting | 8.67 | |
| | | | | | | Comic book collecting | 3.46 | |
| | | | | | | Compact discs | 8.7 | |
| | | | | | | Crystals | 7.13 | |
| | | | | | | Deltiology (postcard collecting) | 6.91 | |
| | | | | | | Die-cast toy | 9.26 | |
| | | | | | | Digital hoarding | 9.08 | |
| | | | | | | Dolls | 1.37 | |
| | | | | | | Element collecting | 4.17 | |
| | | | | | | Ephemera collecting | 2.32 | |
| | | | | | | Films | 2.98 | |
| | | | | | | Fingerprint collecting | 9.31 | |
| | | | | | | Fusilately (phonecard collecting) | 9.55 | |
| | | | | | | Knife collecting | 0.84 | |
| | | | | | | Lotology (lottery ticket collecting) | 0.15 | |
| | | | | | | Movie memorabilia collecting | 2.15 | |
| | | | | | | Perfume | 6.49 | |
| | | | | | | Phillumeny | 3.47 | |
| | | | | | | Pin (lapel) | 8.77 | |
| | | | | | | plush collecting | 1.34 | |
| | | | | | | Radio-controlled model collecting | 0.83 | |
| | | | | | | Rail transport modelling | 8.91 | |
| | | | | | | Record collecting | 4.98 | |
| | | | | | | Rock tumbling | 8.08 | |
| | | | | | | Scutelliphily | 6.85 | |
| | | | | | | Shoes | 7.83 | |
| | | | | | | Sports memorabilia | 6.96 | |
| | | | | | | Stuffed toy collecting | 7.42 | |
| | | | | | | Tea bag collecting | 9.3 | |
| | | | | | | Ticket collecting | 7.31 | |
| | | | | | | Transit map collecting | 2.96 | |
| | | | | | | Video game collecting | 3.75 | |
| | | | | | | Vintage cars | 2.08 | |
| | | | | | | Vintage clothing | 2.84 | |
| | | | | | | Vinyl Records | 5.05 | |
| | | | | | | Antiquities | 0.93 | |
| | | | | | | Auto audiophilia | 7.76 | |
| | | | | | | Flower collecting and pressing | 9.33 | |
| | | | | | | Fossil hunting | 6.9 | |
| | | | | | | Insect collecting | 2.29 | |
| | | | | | | Leaves | 8.57 | |
| | | | | | | Magnet fishing | 5.11 | |
| | | | | | | Mineral collecting | 7.52 | |
| | | | | | | Rock balancing | 4.62 | |
| | | | | | | Sea glass collecting | 8.79 | |
| | | | | | | Seashell collecting | 9.67 | |
| | | | | | | Stone collecting | 8.12 | |
| | | | | | | Air hockey | 7.23 | |
| | | | | | | Animal fancy | 6.19 | |
| | | | | | | Axe throwing | 8.95 | |
| | | | | | | Backgammon | 3.79 | |
| | | | | | | Beauty pageants | 5.76 | |
| | | | | | | Billiards | 5.89 | |
| | | | | | | Boxing | 4.64 | |
| | | | | | | Bridge | 8.98 | |
| | | | | | | Checkers (draughts) | 5.59 | |
| | | | | | | Cheerleading | 8.67 | |
| | | | | | | Color guard | 0.5 | |
| | | | | | | Cribbage | 8.84 | |
| | | | | | | Curling | 4.2 | |
| | | | | | | Dancing | 1.4 | |
| | | | | | | Darts | 2.87 | |
| | | | | | | Dominoes | 0.62 | |
| | | | | | | Eating | 0.95 | |
| | | | | | | Esports | 0.94 | |
| | | | | | | Fencing | 9.11 | |
| | | | | | | Figure Skating | 8.01 | |
| | | | | | | Go | 3.92 | |
| | | | | | | Ice hockey | 7.81 | |
| | | | | | | Judo | 3.33 | |
| | | | | | | Jujitsu | 1.5 | |
| | | | | | | Kabaddi | 3.05 | |
| | | | | | | Knowledge/word games | 9.02 | |
| | | | | | | Laser tag | 3.13 | |
| | | | | | | Mahjong | 5.76 | |
| | | | | | | Marbles | 9.67 | |
| | | | | | | Model racing | 2.02 | |
| | | | | | | Model United Nations | 2.96 | |
| | | | | | | Poker | 1.1 | |
| | | | | | | Pool | 8.65 | |
| | | | | | | Role-playing games | 5.49 | |
| | | | | | | Shogi | 5.67 | |
| | | | | | | Slot car racing | 4.74 | |
| | | | | | | Speedcubing | 6.89 | |
| | | | | | | Sport stacking | 5.39 | |
| | | | | | | Table football | 2.38 | |
| | | | | | | Table tennis | 8.97 | |
| | | | | | | Volleyball | 1.19 | |
| | | | | | | Weightlifting | 7.51 | |
| | | | | | | Association football | 3.01 | |
| | | | | | | Australian rules football | 0.12 | |
| | | | | | | Auto racing | 0.25 | |
| | | | | | | Beach volleyball | 4.8 | |
| | | | | | | Breakdancing | 5.79 | |
| | | | | | | Cornhole | 9.13 | |
| | | | | | | Cricket | 9.56 | |
| | | | | | | Disc golf | 9.1 | |
| | | | | | | Dog sport | 8.52 | |
| | | | | | | Equestrianism | 0.19 | |
| | | | | | | Exhibition drill | 7.2 | |
| | | | | | | Field hockey | 1.09 | |
| | | | | | | Fitness | 4.32 | |
| | | | | | | Footbag | 7.55 | |
| | | | | | | Frisbee | 5.45 | |
| | | | | | | Golfing | 2.5 | |
| | | | | | | Horsemanship | 1.22 | |
| | | | | | | Horseshoes | 9.51 | |
| | | | | | | Iceboat racing | 1.88 | |
| | | | | | | Jukskei | 9.47 | |
| | | | | | | Kart racing | 4.52 | |
| | | | | | | Knife throwing | 8.21 | |
| | | | | | | Long-distance running | 8.06 | |
| | | | | | | Marching band | 9.08 | |
| | | | | | | Mini Golf | 5.08 | |
| | | | | | | Model aircraft | 8.6 | |
| | | | | | | Powerboat racing | 3.29 | |
| | | | | | | Quidditch | 6.74 | |
| | | | | | | Race walking | 0.16 | |
| | | | | | | Racquetball | 1.47 | |
| | | | | | | Radio-controlled car racing | 4.52 | |
| | | | | | | Roller derby | 9.38 | |
| | | | | | | Rugby league football | 8.48 | |
| | | | | | | Shooting sport | 8.88 | |
| | | | | | | Sled dog racing | 4.92 | |
| | | | | | | Softball | 8.66 | |
| | | | | | | Speed skating | 8.98 | |
| | | | | | | Squash | 5.5 | |
| | | | | | | Tennis polo | 6.51 | |
| | | | | | | Tether car | 1.84 | |
| | | | | | | Tour skating | 6.93 | |
| | | | | | | Trapshooting | 0.42 | |
| | | | | | | Triathlon | 3.7 | |
| | | | | | | Ultimate frisbee | 1.32 | |
| | | | | | | Water polo | 6.72 | |
| | | | | | | Audiophile | 8.87 | |
| | | | | | | Learning | 6.33 | |
| | | | | | | Microscopy | 4.88 | |
| | | | | | | Shortwave listening | 7.28 | |
| | | | | | | Aircraft spotting | 6.72 | |
| | | | | | | Amateur astronomy | 6.38 | |
| | | | | | | Benchmarking | 6.74 | |
| | | | | | | Bus spotting | 9.2 | |
| | | | | | | Butterfly watching | 4.46 | |
| | | | | | | Gongoozling | 7.92 | |
| | | | | | | Hiking/backpacking | 6.34 | |
| | | | | | | People-watching | 5.38 | |
| | | | | | | Satellite watching | 5 | |
| | | | | | | Trainspotting | 4.87 | |
| | | | | | | Whale watching | 2.29 | |
| | | | | | | Chief Administrative Officer (CAO) | 0.66 | |
| | | | | | | Chief Analytics Officer (CAO) | 0.83 | |
| | | | | | | Chief Brand Officer (CBO) | 0.81 | |
| | | | | | | Chief Business Development Officer (CBDO) | 5.08 | |
| | | | | | | Chief Business Officer (CBO) | 4.86 | |
| | | | | | | Chief Cloud Officer (CCO) | 3.91 | |
| | | | | | | Chief Commercial Officer (CCO) | 6.95 | |
| | | | | | | Chief Communications Officer (CCO) | 3.21 | |
| | | | | | | Chief Compliance Officer (CCO) | 9.69 | |
| | | | | | | Chief Creative Officer (CCO) | 5.86 | |
| | | | | | | Chief Content Officer (CCO) | 4.95 | |
| | | | | | | Chief Customer Officer (CCO) | 1.74 | |
| | | | | | | Chief Data Officer (CDO) | 1.26 | |
| | | | | | | Chief Design Officer (CDO) | 4.35 | |
| | | | | | | Chief Digital Officer (CDO) | 9.67 | |
| | | | | | | Chief Diversity Officer (CDO) | 4.26 | |
| | | | | | | Chief Events Officer (CVO) | 0.58 | |
| | | | | | | Chief Executive Officer (CEO) | 4.45 | |
| | | | | | | Chief Experience Officer (CXO) | 5.91 | |
| | | | | | | Chief Financial Officer (CFO) | 3.01 | |
| | | | | | | Chief Gaming Officer (CGO) | 9.82 | |
| | | | | | | Chief Genealogical Officer (CGO) | 5.92 | |
| | | | | | | Chief Growth Officer (CGO) | 0.53 | |
| | | | | | | Chief Human Resources Officer (CHRO) | 0.65 | |
| | | | | | | Chief Information Officer (CIO) | 3.83 | |
| | | | | | | Chief Information Officer (higher education) (CIO) | 4.51 | |
| | | | | | | Chief Information Security Officer (CISO) | 3.45 | |
| | | | | | | Chief Innovation Officer (CINO) | 5.53 | |
| | | | | | | Chief Investment Officer (CIO) | 8.33 | |
| | | | | | | Chief Knowledge Officer (CKO) | 8.72 | |
| | | | | | | Chief Learning Officer (CLO) | 9.66 | |
| | | | | | | Chief Legal Officer (CLO) | 2.28 | |
| | | | | | | Chief Marketing Officer (CMO) | 3.68 | |
| | | | | | | Chief Media Officer (CMO) | 2.79 | |
| | | | | | | Chief Medical Officer (CMO) | 7.89 | |
| | | | | | | Chief Operating Officer (COO) | 4.74 | |
| | | | | | | Chief People Officer (CPO) | 6.1 | |
| | | | | | | Chief Privacy Officer (CPO) | 0.63 | |
| | | | | | | Chief Process Officer (CPO) | 0.98 | |
| | | | | | | Chief Product Security Officer (CPSO) | 3.18 | |
| | | | | | | Chief Product Officer (CPO) | 0.68 | |
| | | | | | | Chief Reputation Officer (CRO) | 4.86 | |
| | | | | | | Chief Research Officer (CRO) | 6.65 | |
| | | | | | | Chief Restructuring Officer (CRO) | 6.07 | |
| | | | | | | Chief Revenue Officer (CRO) | 8.57 | |
| | | | | | | Chief Risk Officer (CRO) | 3.55 | |
| | | | | | | Chief Scientific Officer (CSO) | 0.13 | |
| | | | | | | Chief Security Officer (CSO) | 9.56 | |
| | | | | | | Chief Services Officer (CSO) | 5.7 | |
| | | | | | | Chief Solutions Officer (CSO) | 2.81 | |
| | | | | | | Chief Strategy Officer (CSO) | 4.35 | |
| | | | | | | Chief Supply Chain Officer (CSCO) | 9.55 | |
| | | | | | | Chief Sustainability Officer (CSO) | 2.79 | |
| | | | | | | Chief Technological Product Designer (CTPO) | 7.94 | |
| | | | | | | Chief Technology Officer (CTO) | 7.55 | |
| | | | | | | Chief Technology Security Officer (CTSO) | 5.95 | |
| | | | | | | Chief Technical Officer (CTO) | 6.19 | |
| | | | | | | Chief Visibility Officer (CVO) | 1.83 | |
| | | | | | | Chief Visionary Officer (CVO) | 8.22 | |
| | | | | | | Chief Web Officer (CWO) | 1.89 | |
| | | | | | | Anesthesiologist | 8.05 | |
| | | | | | | Anesthesiology Fellow | 2.16 | |
| | | | | | | Certified Registered Nurse Anesthetist | 7.09 | |
| | | | | | | Registered Respiratory Therapist | 5.39 | |
| | | | | | | Anesthesiologist Assistant | 0.56 | |
| | | | | | | Cardiologist | 1.45 | |
| | | | | | | Cardiology Fellow | 5.63 | |
| | | | | | | Cardiology Physician Assistant | 0.95 | |
| | | | | | | Cardiac Scientist | 1.42 | |
| | | | | | | Cardiovascular Technologist | 2.92 | |
| | | | | | | Intensivist | 2.34 | |
| | | | | | | Neonatologist | 8.22 | |
| | | | | | | Critical Care Medicine Physician Assistant | 9.77 | |
| | | | | | | Critical Care Nurse Practitioner | 0.52 | |
| | | | | | | Critical Care Registered Nurse | 9.45 | |
| | | | | | | Critical Care Respiratory Therapist | 8.82 | |
| | | | | | | Dentist | 4.26 | |
| | | | | | | Dental Hygienist | 9.01 | |
| | | | | | | Dental Assistant | 1.13 | |
| | | | | | | Dental Technician | 1.99 | |
| | | | | | | Dermatologist | 0.93 | |
| | | | | | | Dermatology Physician Assistant | 7.58 | |
| | | | | | | Emergency physician | 8.28 | |
| | | | | | | Emergency Physician Assistant | 6.13 | |
| | | | | | | Emergency Nurse Practitioner | 8.74 | |
| | | | | | | Flight Nurse | 7.29 | |
| | | | | | | Certified Emergency Registered Nurse | 7.98 | |
| | | | | | | Certified Emergency Registered Respiratory Therapist | 2.71 | |
| | | | | | | Emergency Medical Technician - Critical Care Paramedic | 7.35 | |
| | | | | | | Paramedic | 7.5 | |
| | | | | | | Endocrinologist | 3.97 | |
| | | | | | | Endocrinology Physician Assistant | 5.45 | |
| | | | | | | Gastroenterologist | 8.33 | |
| | | | | | | Geriatrician | 0.73 | |
| | | | | | | Geriatric Medicine Physician Assistant | 5.46 | |
| | | | | | | Gerontological Nurse Practitioner | 6.81 | |
| | | | | | | Occupational Therapist | 1.81 | |
| | | | | | | Haematologist | 0.46 | |
| | | | | | | Haematology Physician Assistant | 3.39 | |
| | | | | | | Medical Laboratory Technician | 1.99 | |
| | | | | | | Phlebotomist | 0.96 | |
| | | | | | | Nephrologist | 7.91 | |
| | | | | | | Nephrology Physician Assistant | 5.7 | |
| | | | | | | Dialysis Technician | 7.74 | |
| | | | | | | Neurologist | 1.06 | |
| | | | | | | Neurology Physician assistant | 5.69 | |
| | | | | | | Speech Language Pathologist | 5.56 | |
| | | | | | | Audiologist | 8.36 | |
| | | | | | | Neuropsychologist | 3.14 | |
| | | | | | | Oncologist | 8.81 | |
| | | | | | | Oncology Physician Assistant | 4.87 | |
| | | | | | | Radiation Therapist | 2.8 | |
| | | | | | | Ophthalmologist | 3.69 | |
| | | | | | | Ophthalmology Physician Assistant | 6.81 | |
| | | | | | | Optometrist | 8.65 | |
| | | | | | | Otolaryngologist | 7.44 | |
| | | | | | | Pulmonologist | 1.26 | |
| | | | | | | Pulmonology/Respirology Physician Assistant | 6.48 | |
| | | | | | | General practitioner | 8.51 | |
| | | | | | | Primary care physician | 4.23 | |
| | | | | | | Internist | 6.4 | |
| | | | | | | Physician assistant | 1.28 | |
| | | | | | | Family nurse practitioner | 4.2 | |
| | | | | | | Pharmacist | 8.62 | |
| | | | | | | Neonatalologist | 7.36 | |
| | | | | | | Pediatrician | 9.57 | |
| | | | | | | Pediatric Physician Assistant | 5.35 | |
| | | | | | | Neonatal Nurse Practitioner | 7.86 | |
| | | | | | | Pediatric Nurse Practitioner | 3.62 | |
| | | | | | | Occupational Therapist- Neonatal/ Pediatric | 0.61 | |
| | | | | | | Pediatric Nurse | 5.51 | |
| | | | | | | Pediatric Respiratory Therapist | 1.84 | |
| | | | | | | Podiatric Surgeon | 7.33 | |
| | | | | | | Doctor of Podiatric Medicine | 0.19 | |
| | | | | | | Podiatrist | 3.91 | |
| | | | | | | Chiropodist | 4.91 | |
| | | | | | | Psychiatrist | 6.64 | |
| | | | | | | Psychiatry Physician Assistant | 8.37 | |
| | | | | | | Psychologist | 4.51 | |
| | | | | | | Psychiatric Nurse Practitioner | 3.45 | |
| | | | | | | Mental Health Nurse Practitioner | 7.65 | |
| | | | | | | Social Worker | 3.9 | |
| | | | | | | Mental Health Counselor | 0.26 | |
| | | | | | | Medical Officer of Health | 5.07 | |
| | | | | | | Environmental Health Officer | 3.91 | |
| | | | | | | Epidemiologist | 6.24 | |
| | | | | | | Public Health Nurse | 8.1 | |
| | | | | | | Orthopedic Physician | 6.63 | |
| | | | | | | Orthopedic Physician Assistant | 5.14 | |
| | | | | | | Sport Psychologist | 5.59 | |
| | | | | | | Physical Therapist | 6.84 | |
| | | | | | | Physical Therapy Assistant | 4.66 | |
| | | | | | | Occupational Therapy Assistant | 2.71 | |
| | | | | | | Orthopaedic Technologist or Prosthetist & Orthotist | 3.28 | |
| | | | | | | Chiropractor | 7.17 | |
| | | | | | | Biokineticist | 6.32 | |
| | | | | | | Athletic Trainer | 4.62 | |
| | | | | | | Yoga Instructor | 7.51 | |
| | | | | | | Massage Therapist | 2.16 | |
| | | | | | | Radiologist | 3.8 | |
| | | | | | | Radiology Physician Assistant | 8.67 | |
| | | | | | | CT Radiographer | 7.76 | |
| | | | | | | Interventional Radiographer | 3.55 | |
| | | | | | | Mammographer | 9.77 | |
| | | | | | | Neuroradiographer | 8.92 | |
| | | | | | | Medical Dosimetry Technologist | 5.34 | |
| | | | | | | Radiologist Practitioner Assistant | 1.77 | |
| | | | | | | Reporting Radiographer | 9.25 | |
| | | | | | | Sonographer | 6.8 | |
| | | | | | | Obstetrician | 8.14 | |
| | | | | | | Gynaecologist | 1.29 | |
| | | | | | | OB/GYN Physician Assistant | 5.8 | |
| | | | | | | Women's Health Nurse Practitioner | 0.9 | |
| | | | | | | Nurse-Midwife | 2.11 | |
| | | | | | | Midwife | 4.5 | |
| | | | | | | Lactation consultant | 5.7 | |
| | | | | | | General Doctor | 2.54 | |
| | | | | | | Bariatric Surgeon | 6.11 | |
| | | | | | | Cardiothoracic surgeon | 0.22 | |
| | | | | | | Cardiac Surgeon | 1.22 | |
| | | | | | | Hepatic Biliary Pancreatic Surgeon | 9.46 | |
| | | | | | | Neurosurgeon | 6.82 | |
| | | | | | | Surgery Physician Assistant | 0.67 | |
| | | | | | | Urologist | 2.82 | |
| | | | | | | Accessory designer | 3 | |
| | | | | | | Advertising designer | 6.59 | |
| | | | | | | Animator | 8.29 | |
| | | | | | | Architect | 9.32 | |
| | | | | | | Art administrator | 8.9 | |
| | | | | | | Arts administration | 6.6 | |
| | | | | | | Art therapist | 1.49 | |
| | | | | | | Baker | 6.12 | |
| | | | | | | Ceramics artist | 2.55 | |
| | | | | | | Chief creative officer | 4.03 | |
| | | | | | | Colorist | 6.08 | |
| | | | | | | Concept Artist | 0.12 | |
| | | | | | | Curator | 5.88 | |
| | | | | | | Dancer | 6.58 | |
| | | | | | | Design director | 6.9 | |
| | | | | | | Design strategist | 3.68 | |
| | | | | | | Essayist | 2.81 | |
| | | | | | | Event planner | 3.84 | |
| | | | | | | Fashion designer | 6.64 | |
| | | | | | | Fine artist | 7.85 | |
| | | | | | | Floral designer | 7.58 | |
| | | | | | | Graphic designer | 3.54 | |
| | | | | | | Hairstylist | 1.78 | |
| | | | | | | Illustrator | 2.19 | |
| | | | | | | Tattoo artist | 8.8 | |
| | | | | | | Interior designer | 8.31 | |
| | | | | | | Jewellery designer | 1.21 | |
| | | | | | | Lyricist | 6 | |
| | | | | | | Make-up artist | 8.94 | |
| | | | | | | Marine designer | 4.35 | |
| | | | | | | Media designer | 0.25 | |
| | | | | | | Musician | 6.38 | |
| | | | | | | Party planner | 7.66 | |
| | | | | | | Penciller | 4.68 | |
| | | | | | | Photographer | 4.13 | |
| | | | | | | Photojournalist | 2.16 | |
| | | | | | | Potter | 5.78 | |
| | | | | | | Production designer | 7.75 | |
| | | | | | | Sculptor | 9.64 | |
| | | | | | | Set decorator | 7.75 | |
| | | | | | | Set dresser | 2.5 | |
| | | | | | | Singer | 4.04 | |
| | | | | | | Web designer | 7.87 | |
| | | | | | | Wedding planner | 3.57 | |
| | | | | | | Writer | 0.37 | |
| | | | | | | Arts Administrator | 1.04 | |
| | | | | | | Ballet dancer | 7.51 | |
| | | | | | | Corps de ballet | 0.62 | |
| | | | | | | Demi-soloist | 0.79 | |
| | | | | | | Principal dancer | 0.72 | |
| | | | | | | Soloist | 9.7 | |
| | | | | | | Ballet historian | 3.27 | |
| | | | | | | Ballet master | 0.53 | |
| | | | | | | Choreographer | 1.82 | |
| | | | | | | Dance critic | 7.24 | |
| | | | | | | Dance historian | 2.77 | |
| | | | | | | Dance notator | 3.01 | |
| | | | | | | Dance scholar | 8.41 | |
| | | | | | | Dance therapist | 7.09 | |
| | | | | | | Backup dancer | 2.86 | |
| | | | | | | Caller (dancing) | 2.95 | |
| | | | | | | Exotic dancer | 5.52 | |
| | | | | | | Majorette (dancer) | 7.95 | |
| | | | | | | Showgirl | 5.72 | |
| | | | | | | Taxi dancer | 0.85 | |
| | | | | | | Répétiteur | 1.8 | |
| | | | | | | Acrobat | 0.37 | |
| | | | | | | Actor | 7.36 | |
| | | | | | | Archimime | 7.99 | |
| | | | | | | Athlete | 1.73 | |
| | | | | | | Barker | 8.05 | |
| | | | | | | Beatboxer | 9.72 | |
| | | | | | | Benshi | 6.15 | |
| | | | | | | Bouffon | 9.25 | |
| | | | | | | Circus performer | 5.4 | |
| | | | | | | Clown | 8.26 | |
| | | | | | | Comedian | 5.17 | |
| | | | | | | Drag queen | 8.47 | |
| | | | | | | Drag king | 3.2 | |
| | | | | | | Emcee | 7.71 | |
| | | | | | | Filmmaker | 2.26 | |
| | | | | | | Flag throwing | 0.87 | |
| | | | | | | Flair bartender | 9.24 | |
| | | | | | | Flatulist | 6.17 | |
| | | | | | | Geisha | 0.32 | |
| | | | | | | Go-go dancer | 0.54 | |
| | | | | | | Harlequin | 7.3 | |
| | | | | | | Host | 6.11 | |
| | | | | | | Illusionist | 7.79 | |
| | | | | | | Impressionist | 5.37 | |
| | | | | | | Internet celebrity | 7.14 | |
| | | | | | | Itinerant poet | 4.38 | |
| | | | | | | Kobzar | 6.06 | |
| | | | | | | Lirnyk | 1.03 | |
| | | | | | | Magician | 8.77 | |
| | | | | | | Master of ceremonies | 0.97 | |
| | | | | | | Mime | 6.71 | |
| | | | | | | Minstrel | 3.13 | |
| | | | | | | Model | 6.48 | |
| | | | | | | Monologist | 6.37 | |
| | | | | | | Painter | 0.78 | |
| | | | | | | Party princess | 7.51 | |
| | | | | | | Performer | 5.6 | |
| | | | | | | Podcaster | 4.55 | |
| | | | | | | Poet | 7.54 | |
| | | | | | | Promotional model | 2.16 | |
| | | | | | | Radio personality | 0.87 | |
| | | | | | | Rapper | 1.54 | |
| | | | | | | Rhapsode | 0.86 | |
| | | | | | | Ring girl | 2.46 | |
| | | | | | | Ringmaster | 8.49 | |
| | | | | | | Scop | 5.4 | |
| | | | | | | Shamakhi dancers | 8.35 | |
| | | | | | | Showman | 8.58 | |
| | | | | | | Showrunner | 5.22 | |
| | | | | | | Skomorokh | 2.38 | |
| | | | | | | Streamer | 1.48 | |
| | | | | | | Street performer | 3.01 | |
| | | | | | | Stunt performer | 2.42 | |
| | | | | | | Theatre practitioner | 7.74 | |
| | | | | | | TikToker | 4.03 | |
| | | | | | | TV celebrity | 0.89 | |
| | | | | | | Vedette | 3.56 | |
| | | | | | | YouTuber | 9.12 | |
| | | | | | | Author | 7.61 | |
| | | | | | | Blogger | 8.07 | |
| | | | | | | Book coach | 4.77 | |
| | | | | | | Commissioning editor | 7.77 | |
| | | | | | | Copy editor | 7.68 | |
| | | | | | | Creative consultant | 3.43 | |
| | | | | | | Dog writer | 7.93 | |
| | | | | | | Freelancer | 4.1 | |
| | | | | | | Ghostwriter | 5.73 | |
| | | | | | | Griot | 2.66 | |
| | | | | | | Hack writer | 7.23 | |
| | | | | | | Infopreneur | 0.19 | |
| | | | | | | Journalist | 3.57 | |
| | | | | | | Literary editor | 0.59 | |
| | | | | | | Manuscript format | 6.63 | |
| | | | | | | Medical writing | 1.41 | |
| | | | | | | Novelist | 5.86 | |
| | | | | | | Polygraph (author) | 7.77 | |
| | | | | | | Review | 9.23 | |
| | | | | | | Screenwriter | 4.02 | |
| | | | | | | Scribe | 0.16 | |
| | | | | | | Script coordinator | 4.09 | |
| | | | | | | Script doctor | 0.67 | |
| | | | | | | Scrivener | 7.74 | |
| | | | | | | Songwriter | 2.3 | |
| | | | | | | Speechwriter | 9.82 | |
| | | | | | | Staff writer | 3.87 | |
| | | | | | | Technical writer | 5.84 | |
| | | | | | | Website content writer | 3.16 | |
| | | | | | | Auto mechanic | 9.39 | |
| | | | | | | Beader | 9.6 | |
| | | | | | | Bobbin boy | 1.77 | |
| | | | | | | Arborist | 6.06 | |
| | | | | | | Feller | 6.34 | |
| | | | | | | Filling station attendant | 3.54 | |
| | | | | | | Foreman | 5.17 | |
| | | | | | | Maintenance engineering | 8.88 | |
| | | | | | | Mechanic | 1.98 | |
| | | | | | | Miller | 7.96 | |
| | | | | | | Moldmaker | 7.66 | |
| | | | | | | Panel beater | 1.72 | |
| | | | | | | Patternmaker | 8.8 | |
| | | | | | | Plant operator | 5.08 | |
| | | | | | | Plumber | 7.65 | |
| | | | | | | Welder | 3.95 | |
| | | | | | | Sawfiler | 9.74 | |
| | | | | | | Shop foreman | 9.45 | |
| | | | | | | Soaper | 5.71 | |
| | | | | | | Stationary engineer | 1.52 | |
| | | | | | | Wheelwright | 7.95 | |
| | | | | | | Woodworkers | 3.09 | |
| | | | | | | Construction worker | 0.73 | |
| | | | | | | Factory worker | 6.48 | |
| | | | | | | Bookbinder | 4.79 | |
| | | | | | | Cordwainer | 7.36 | |
| | | | | | | Corsetier | 0.64 | |
| | | | | | | Draper | 8.99 | |
| | | | | | | Dressmaker | 8.28 | |
| | | | | | | Embroiderer | 4.1 | |
| | | | | | | Glover | 5.76 | |
| | | | | | | Hatter | 7.12 | |
| | | | | | | Leatherworker | 0.15 | |
| | | | | | | Milliner | 6.16 | |
| | | | | | | Parachute rigger | 1 | |
| | | | | | | Quilter | 2.05 | |
| | | | | | | Sailmaker | 1.92 | |
| | | | | | | Seamstress | 5.81 | |
| | | | | | | Shoemaker | 0.47 | |
| | | | | | | Tailor | 6.82 | |
| | | | | | | Taxidermist | 8.99 | |
| | | | | | | Upholsterer | 2.61 | |
| | | | | | | Bus driver | 3.6 | |
| | | | | | | Chauffeur | 6.86 | |
| | | | | | | Delivery (commerce) | 4.86 | |
| | | | | | | Emergency medical technician (ambulance driver) | 1.98 | |
| | | | | | | Motorman (tram/streetcar driver) | 2.3 | |
| | | | | | | Pay driver | 2.03 | |
| | | | | | | Racing driver | 3.48 | |
| | | | | | | Taxicab driver | 3.31 | |
| | | | | | | Test driver | 2.46 | |
| | | | | | | Train driver | 1.82 | |
| | | | | | | Tractor driver | 0.46 | |
| | | | | | | Truck driver | 7.24 | |
| | | | | | | Valet parking | 6.06 | |
| | | | | | | Bot | 9.9 | |